Product name: 20 feet Mobile Gas filling station
Features: Gas filling station including storage tank,fuel dispenser,fire fighting system together can be moved station.it is widely used in public transportation stations, ports, airports, large-scale construction sites, internal gas stations, etc., with the advantages of fire protection, safety and environmental protection, small footprint, easy migration and so on.
This kind of oil station is small and occupies little space.Easy to install and can be migrated as a whole.After the migration, the equipment is not damaged and the economy can hold its value.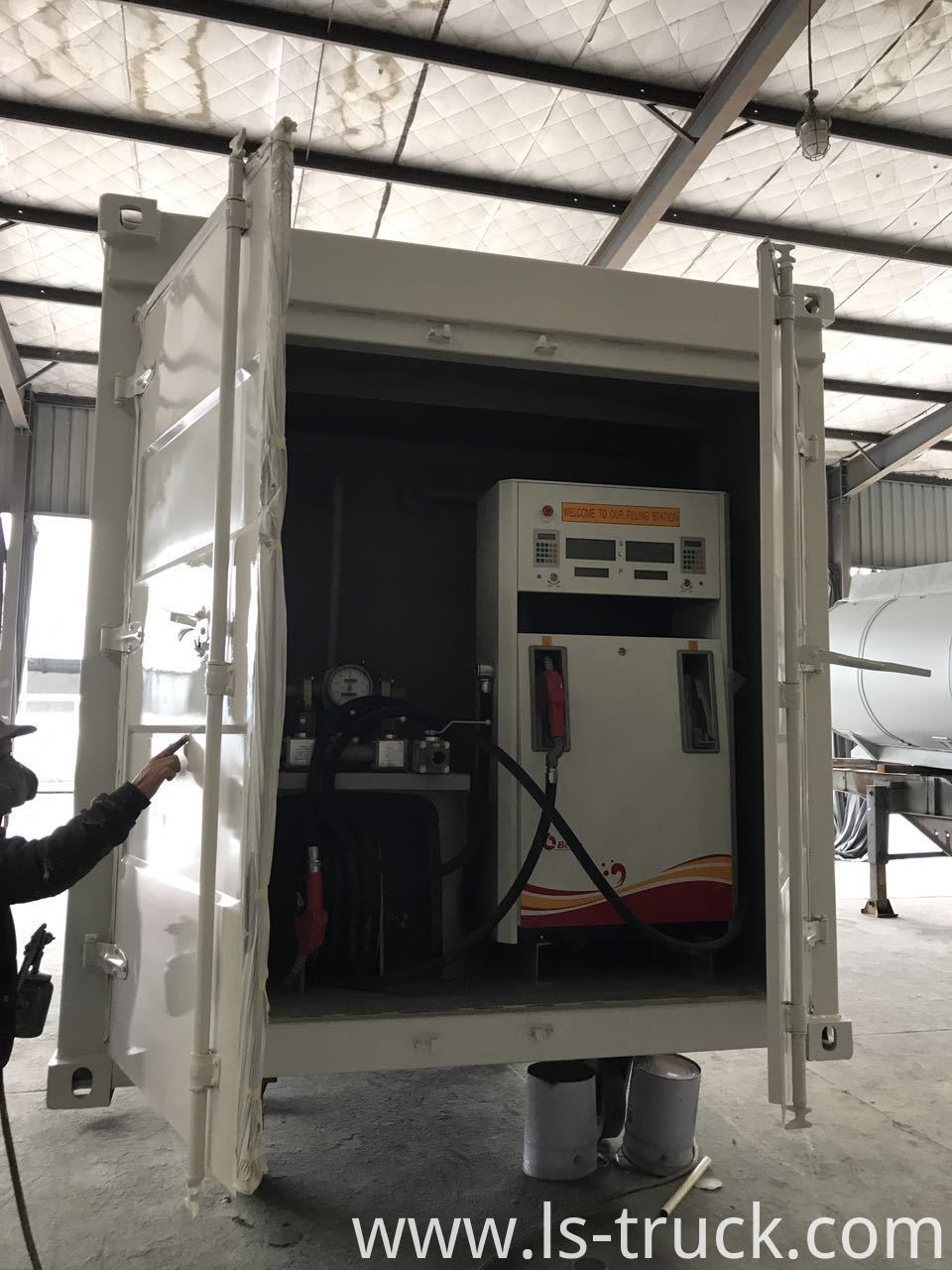 Configuration details
Dimensions: 6058*2438* 2590mm, base with 4 container locks.
Tank size: 4400*2400*2400mm, total volume: 25m3,1 compartment. Medium: diesel,petrol
1. Tank body material: Q235B thickness 4.7 mm;Tank interior embroidery,
2. 1 European standard Manhole with double breather valve
3. Motor pump: 380V explosion-proof motor with high-flow aluminum oil pump, pump in and out with cover.
4. oil dispenser : the large flow of Beilin brand 380V with 15m oil reel & double oil nozzle.
5. Liquid level gauge: magnetic flip gauge.
6. Flow Meter: Ningbo 50 flow meter, pump into through it.
7. Filter: pump into strainer, with filter screen, can be disassemble.
8. Electrical system: distribution box, explosion-proof lighting, switch, socket, etc.
9. The pump in safety room, 2 aluminum alloy shutter door locked.
10. Pipe 2.5 inch, aluminum alloy valve 2.5 inch.
11. Fire extinguishers, 2.5 inch hoses, etc.
12, can order made according customer request.
Product Categories : Petroleum Chemical Vehicle > Fuel Tank Truck